Published by Editorial Alfaguara for Penguin Random House Grupo Editorial. BUY THE BOOK HERE.
It is with great joy and hope that Adults for Children's Rights celebrates the birth and publication of Somos Sobrevivientes, a book written by 8 of the most notable and widely read writers in Argentina about 8 stories of members of our civil association.
It is a dream come true and constitutes a marvelous and transcendental political, social and cultural event for our noble and urgent collective cause.
Our heartfelt gratitude goes to Claudia Aboaf, Félix Bruzzone, Gabriela Cabezón Cámara, Juan Carlos Kreimer, Fabián Martínez Siccardi, Sergio Olguín, Claudia Piñeiro and Dolores Reyes for their extraordinary work and talent in giving voice to our childhood pains and to the child victims of today.
And we also embrace the formidable gesture of material commitment to our struggle of the 8 dear and wonderful writers who decided to donate their copyrights to our civil association.
Welcome to the world of Somos Sobrevivientes!
And let's hope that together we can change the fate of childhood!
Silvia Piceda and Sebastián Cuattromo, founders of the civil association Adultxs por los Derechos de la Infancia.
"Equis would blindfold him. He would do things to him or force him to do them. Impossible for a seven- or eight-year-old boy to know that he had become the victim of someone ten years older, someone he considered his friend, the oldest of his friends."
"From the school, I heard inconceivable arguments [...]. They said that what he had done with us was "an inappropriate game", they described it as -ugly things-. And that thanks to those actions a -yellow light- had been lit. The yellow light was barely enough to move him from locality."
This is an uncomfortable book, it talks about the violence exercised by adults against minors that left marks and conditioned their lives. It talks about difficult situations that occurred in childhoods that were not cared for, in which their confidence, physical integrity and mental health were abused. 
Eight writers listened to eight survivors of abuse and told their stories from a place of empathy and listening with the best tool they have: the word. Where silence is the abuser's accomplice, words are the victims' ally. The stories reflected in this anthology allow us to see beyond the silenced, connecting solitary pains with common pain, in an invitation to stop being silent and encourage us to dream together of a brighter future.
"My current life I like, sometimes I get to feel proud of myself. I was able to heal. But there lives inside me the shadow of a silence that used to be the most powerful mandate, a hole in the memory that led me to forget that which anyway came back again and again in tears, anguish and anger."
"I felt so much shame: I had married this beast. Suddenly I'm this babe and all my demons are surrounding me, harming me, atomizing me."
"Blas is not a big talker [...]. But after a while, yes, he started to talk. Before the complaint, and before the threats [...]. Blas talks. He says confinements. He says touching. He talks about physical violence."
"When I was a child I was abused by a neighbor. [And who was I going to tell at that time? What everyone expected was that my dad would abuse me or one of my siblings, and it didn't happen. But this neighbor did."
"Several times daddy wants to come into my room, he is still convinced he can do what he wants to me, I scream before he can lay a hand on me [...]. Mom knows and does nothing."
"The psychologist asked her name, how old she was, what school she went to, how many siblings..., finally he asked her to tell him why she was there. Sofia took a deep breath and told him that she had been raped by her father."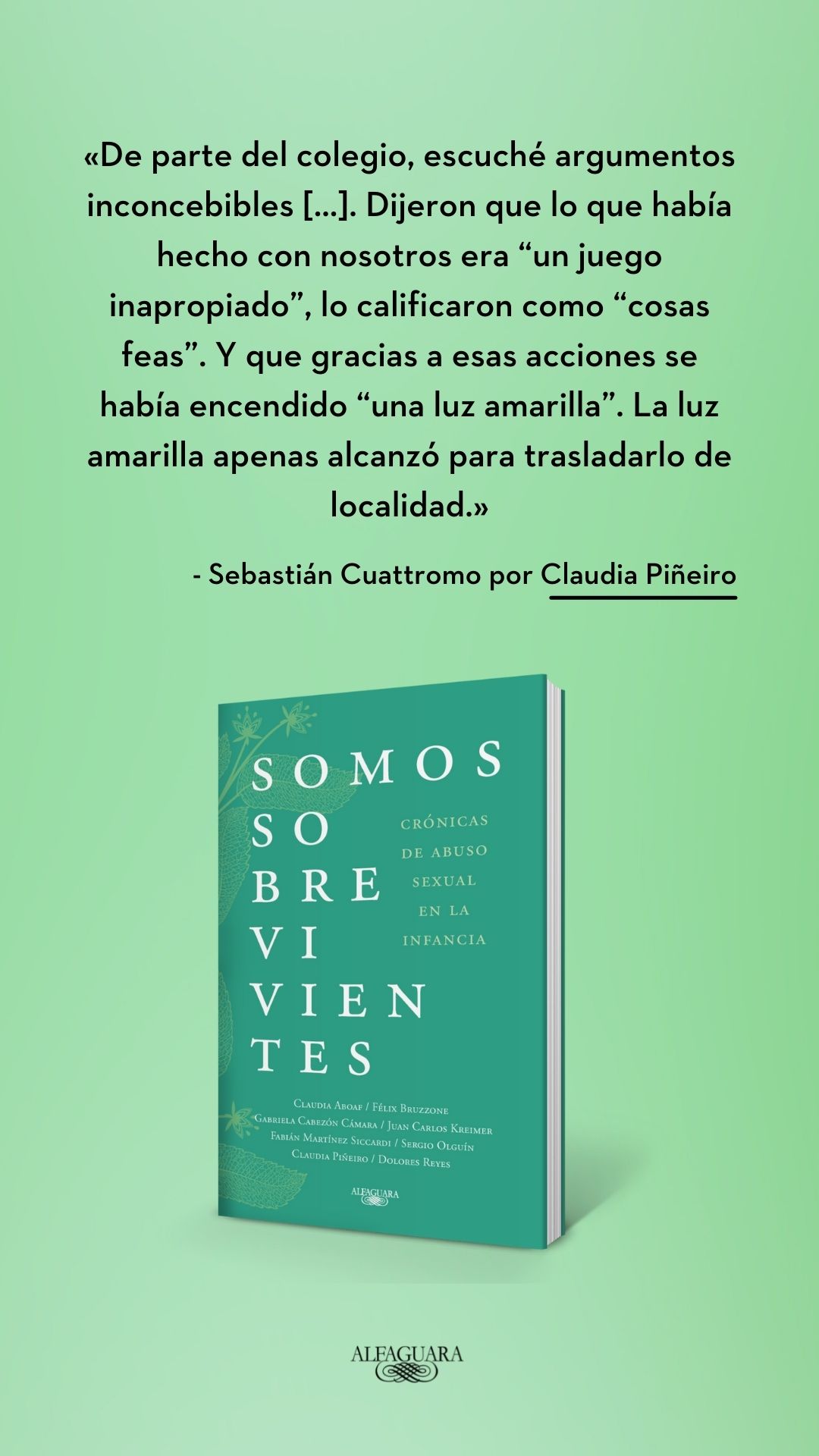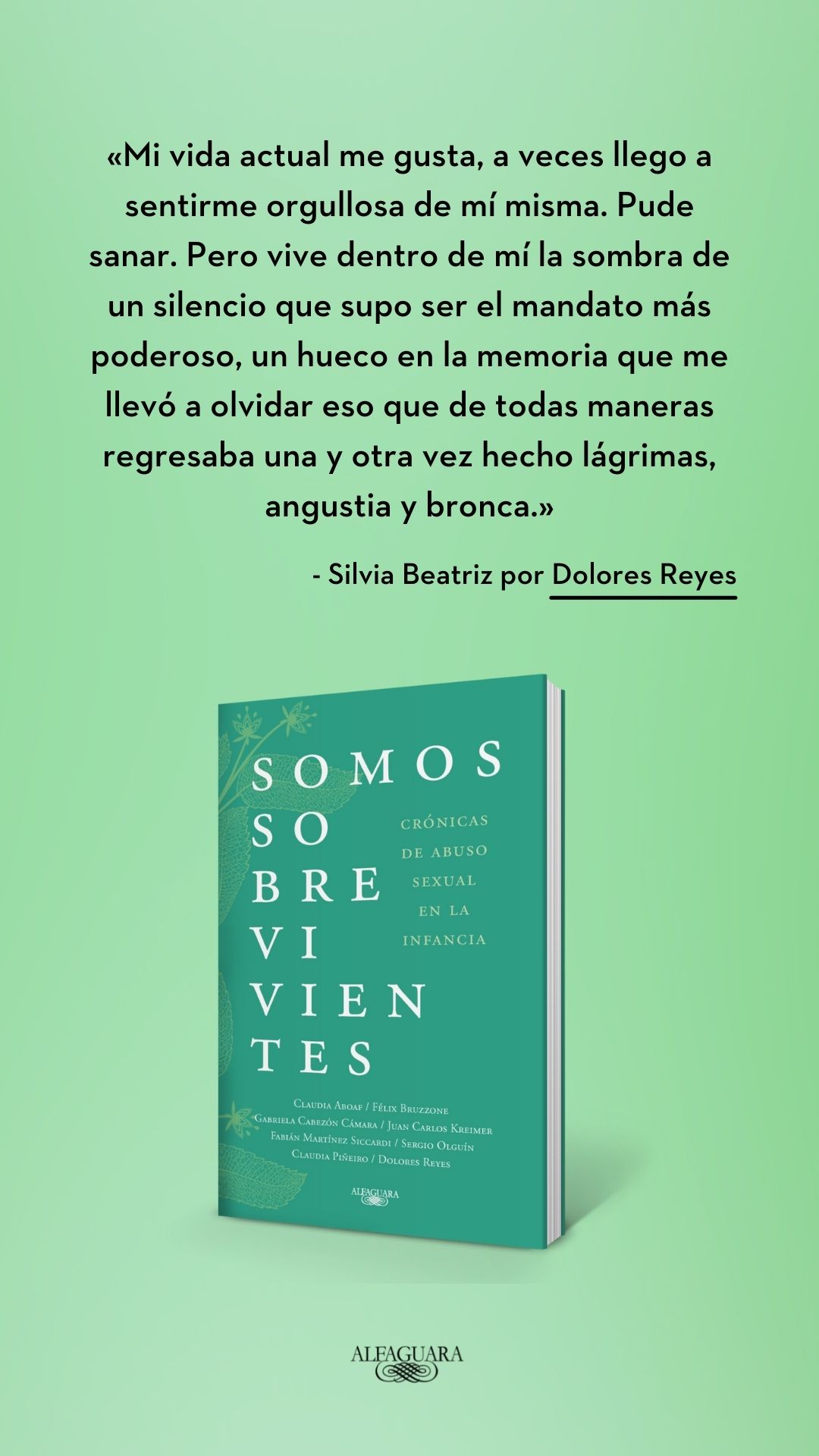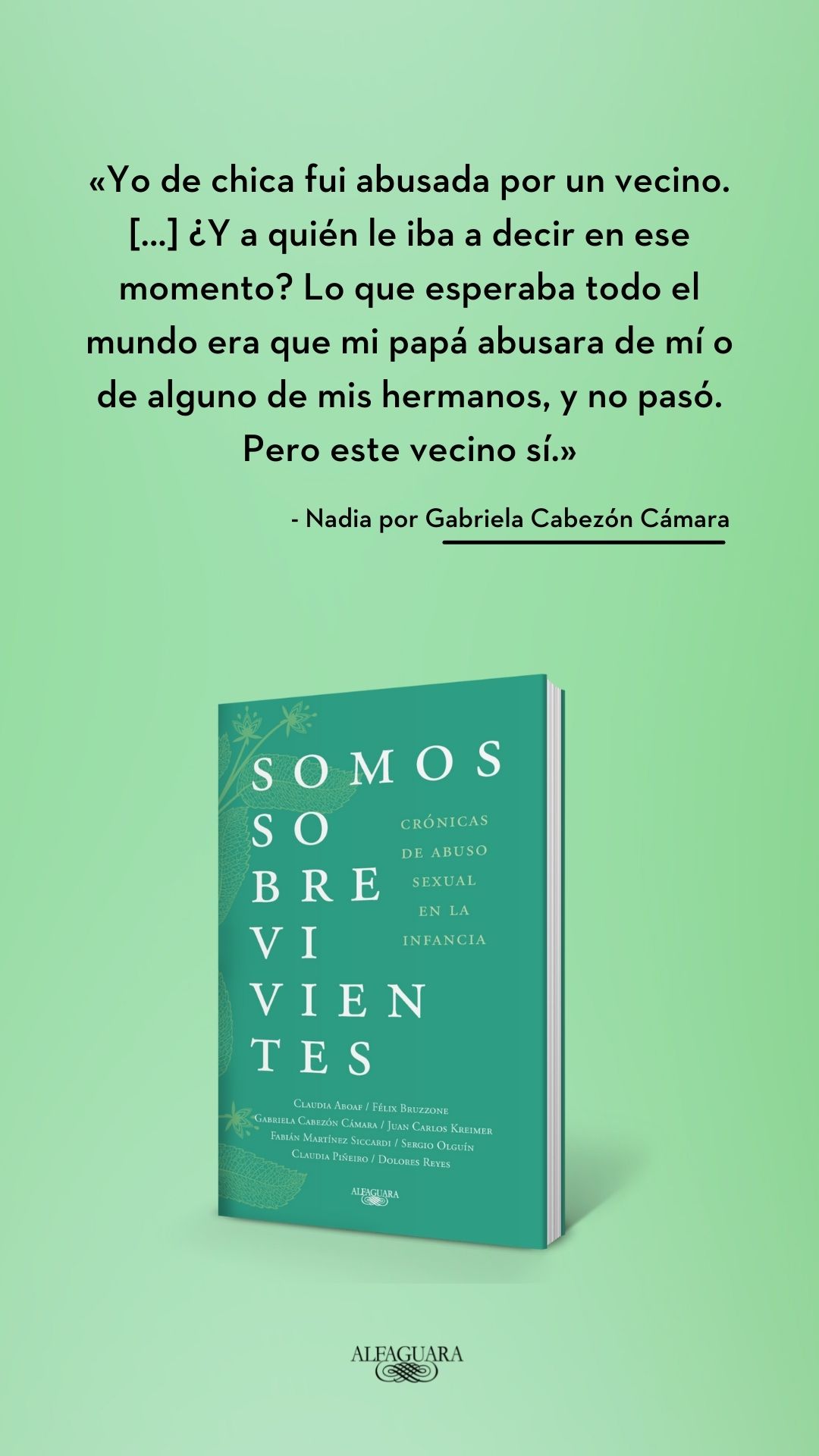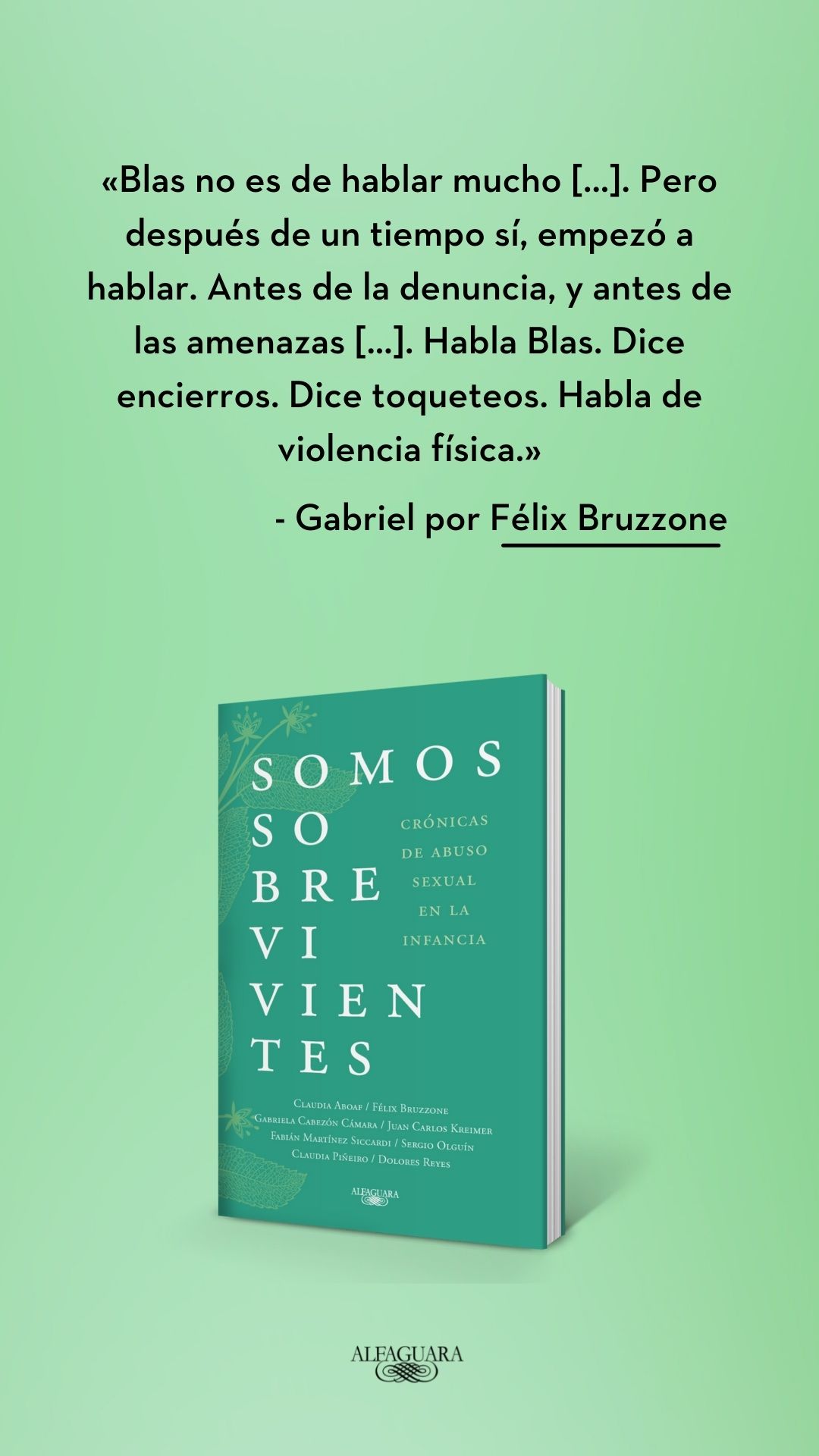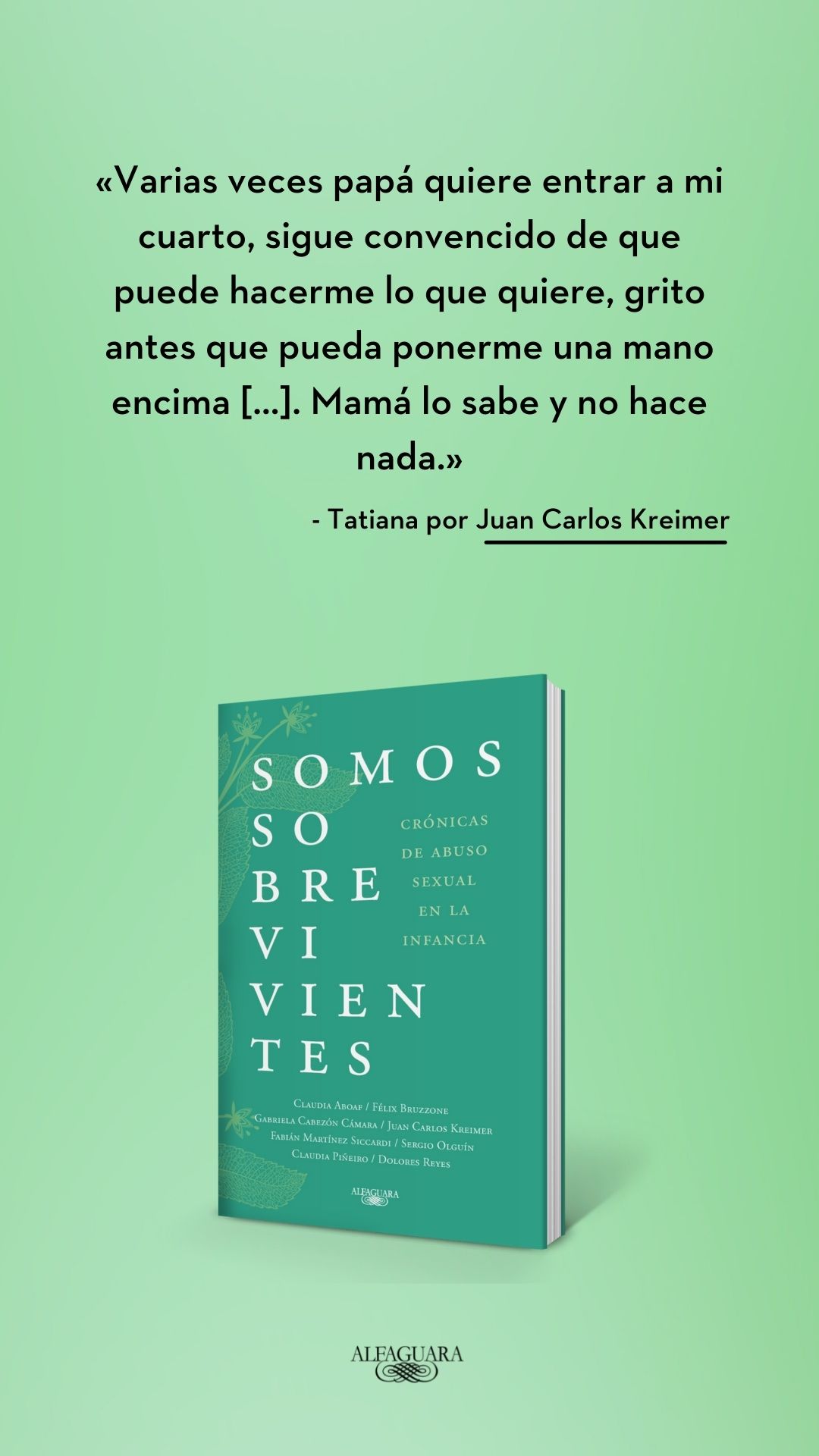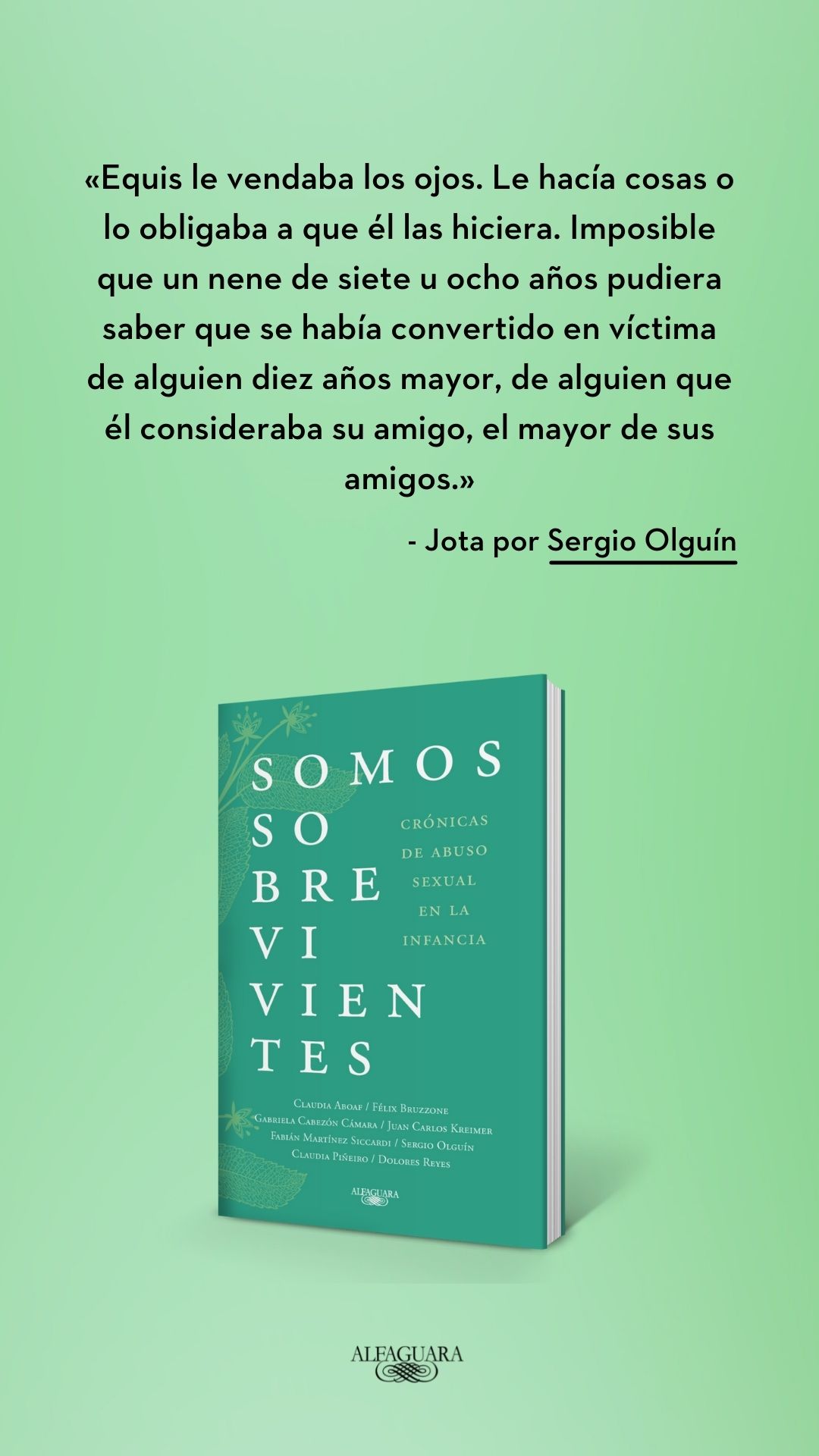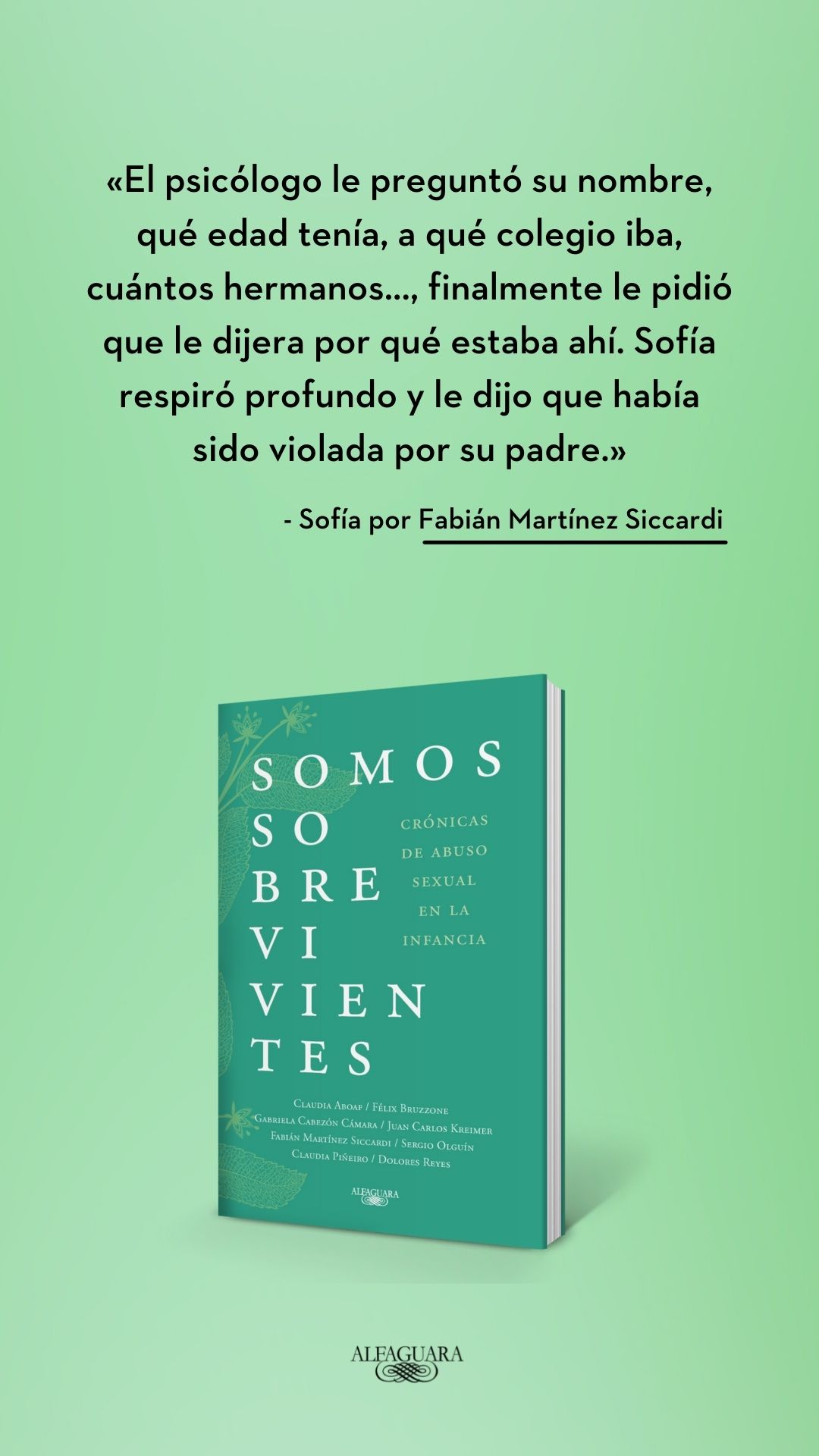 Story "Un varón devaluado": Sebastián Cuattromo by Claudia Piñeiro
Story "The strength of your voice": Silvia Beatriz by Dolores Reyes: